(right)
A pantoum to Fyerool Darma Written by Fyelol Dana
2 June, Gregorian 2019
For 'Sunny, your smile ease the pain'
2019, Yeo Workshop; Singapore.

Glossary
lo Indonesian you
lai Chinese to come
Surya brand of clove cigarettes from
Indonesia; from Sanskrit [sū́rya]
→ Malay [suria] the star around which the Earth revolves
bhut Hindi ghost
kala Malay synonym for time

A pantoum to Fyerool Darma, written by Fyelol Dana
, inkjet on paper, 21 × 29.7 cm, 2019
This body mine,
lo
body yours,
pull it apart
lai
-
Take these hands to adorn your walls,
This eyes as ornaments to your wreath,
This skin, when its melanin has oxidized,
pound it to pigments to coat your trophies.
This tongue has a taste for colloquies,
yet you think of it as a hellion body.
My heart is alive,
my mind it fattens,
despite the humidity you forecast,
Surya take my worries and woes,
protect me from the
bhut
of
kala
.






Sunny, your smile ease the pain
(After Gergasi)
2017 - 2019
Text, coloured light emiting diode, folded artist textiles, bleached polyester canvas and threads, artist frame
(chrome vinyl on wood with aquatint and mirror acrylic), ink on polypropylene paper with acrylic, heat-transfer on heavy cotton,
295 x 366 cm, installation view.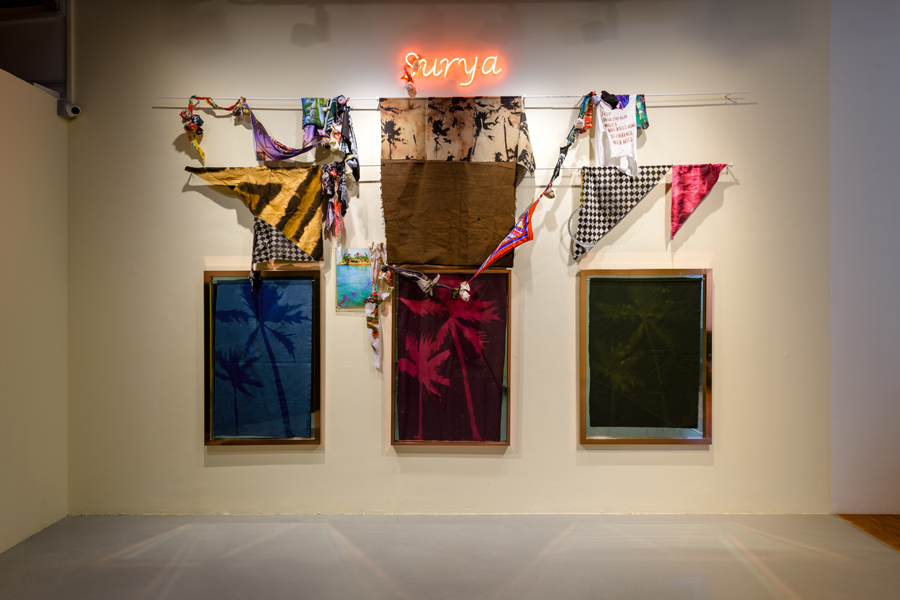 Light of my life (Orleng)
2019, coloured light emitting diode with folded artist textiles,
70 x 24 x 5 cm
d'Sentosa every jivva lives in harmoni (pantoum nagi)

2019, burnt artist and found textiles,
burnt braided dyed nylon rope,
light emitting diode, battery, stained stainless steel
with reverse acrylic print, 84.1 x 119.9 x 10 cm
Those who linger by the berth savour your silence (clot)
2017, bleached canvas on wire hanger, 105 x 70 cm
Where the feathers fall by the magenta line

2017-2019
bleached polyester canvas and threads, artist and found textile, 88 X 98 cm
Those who linger by the berth savour your silence (purper)

2017-2019, bleached canvas encased in
tinted acrylic with artist frame, 105 x 70 cm
We flew to the sea by the reef of rocks
2017, bleached and pigmented wash textiles, 70 x 90 cm
Those who linger by the berth savour your silence (beat)
2017, bleached canvas on wire hanger
We grace to be awaken by your call

2017, bleached and pigmented wash textiles, 88 x 89 cm
Eulogy for the withering hours
2017, stitched bleached canvas on wire hanger
---