Total Output featuring Aleezon, berukera,
billyX, Jasim, Lee Khee San, Lé Luhur
and rawanXberdenyut

Plexiglass (Tiger), polyurethane clear coat,
archival ink (molotow), polyvinyl chloride and
polyacrylate adhesive - salvaged and artist vinyl
(ORACAL 651 and Ri-Jet Mono), carbon fibre
polyvinyl chloride and polyacrylate adhesive
(Vvivid XPO) on anodized aluminium alloy,
honeycomb retroreflective polyvinyl chloride (Grip-On),
non metalized micro-prismatic reflective tape
with resin (Steve & Lief), polypropylene film (Hunter),
on plexiglass with xylene, silicone and 6061
aluminium alloy secondary support ,
(total) 400 x 300 x 6 cm, (each) 100 cm x 100 cm,
support measures at 10 x 5 x 10 cm.

The installation was accompanied with an audio
loop, arranged and produced by berukera

2023

Photograph by jonathan tan
Total Output is an exercise in remixing visual vocabularies drawn from open source archives. It ventures into experimentation of patterns as glitches, acting on collected, sourced and recognised motifs in cultural and industrial circulation. Through sampling (taking fragments from a whole), a process of extraction, analysis and repetitive labour ensues, where a collective of artists work simultaneously on the same set of sources, each creating within their own system and rhythm of control against the backdrop of a shared grid. Formally, the work resembles modular LED screens but one that is in the process of being composed. This alludes to grid technologies as a system of digital organisation and distribution, an arena within which the visual remixes and glitches stage an ongoing cacophony of discordances between the digital and analogue.
The work's title references the measurement of productivity in an economy but while the method of quantifying labour outputs obliterates individuality, Total Output proposes speculative and productive forms of artistic labour that is premised on the cumulation of independent agency – the sum of the creative energies amassed in the artist's studio.
The installation witnessed 3 sets of variation updates which will be updated by end August 2023. The work was a proposal and commissioned as part of the inaugural biennale project focusing on emerging practices and generative trends in Singapore, titled
SAM Contemporaries: Residues and Remixes
presented by Singapore Art Museum.
Language Instruction Manual Study
Designed by: cinoti
Assistant designer: Aleezon
Above is a Language Instruction Manual Study set by the studio as a proposal for the curators to jointly speculate about the equipments employed and each patterns historicity. The textual exercise with curators, Khim Ong and Syaheedah Iskandar could be read in the printed publication.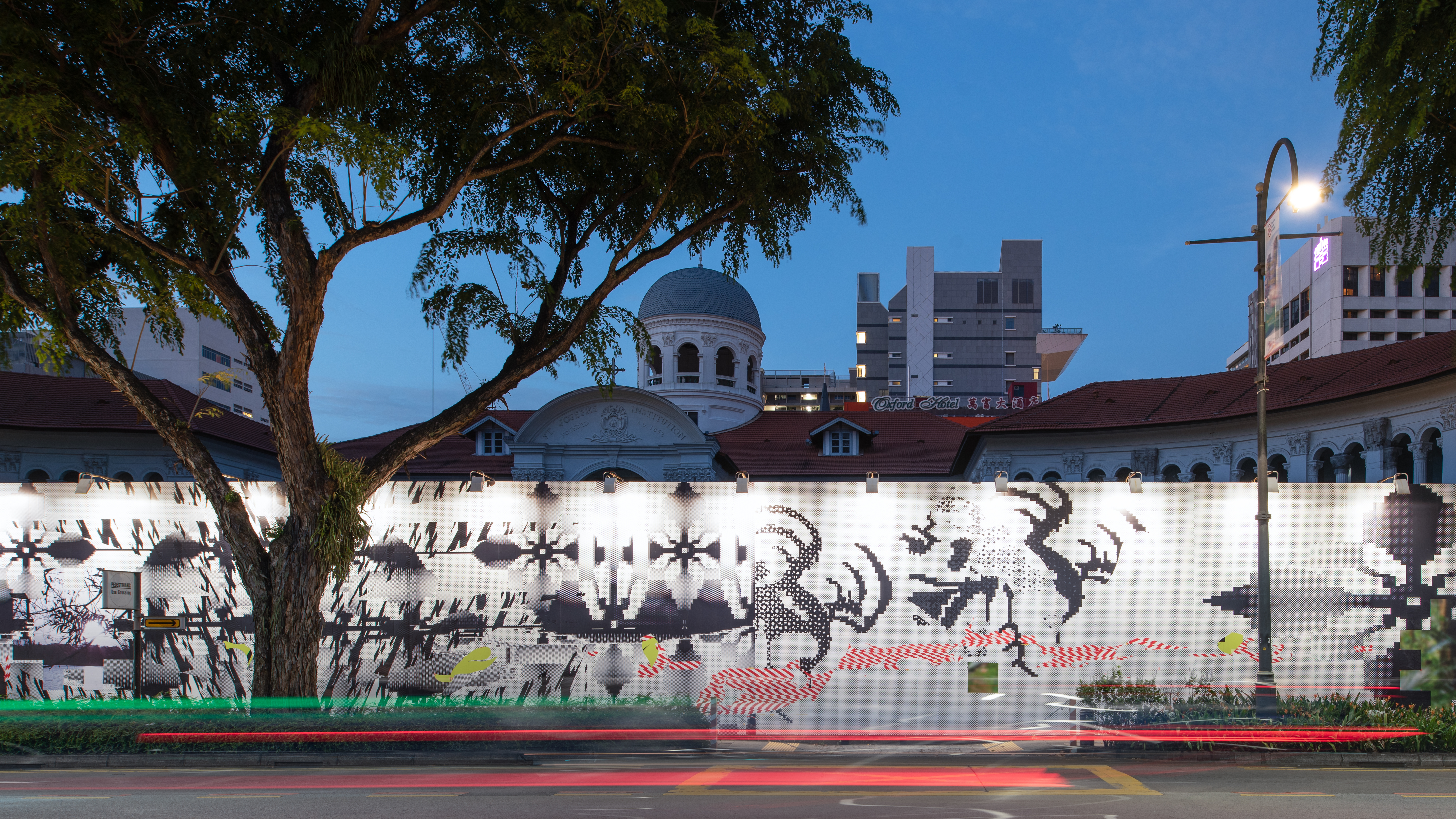 L4ndf33lzz featuring Aleezon, Lé Luhur, Manni Wang, rawanXberdenyut, Taufiq Rahman, and mr. jalee, Singapore Art Museum Hoarding along Bras Basah Complex.

Photograph by jonathan tan.
L4NDf33lzz references patterns designed and manufactured in Singapore from the 1950s to 1970s before the city-state shifted its economic strategy into an Export Oriented Industry. Many of these patterns were produced for textiles and generated by unnamed craftsmen.

These patterns became a source for sampling and mashup where the artist modified them digitally with archival and stock images of Bras Basah. Scaled up in a grid, these colossal supergraphics pay homage to the site and the original creators of these patterns.

Between June to August, the artist and his collaborators will engage in a visual dialogue with the graphics that will alter the images shown. Shifting and remixing between the analogue and digital, portions of the vinyl will be manually cut and remodified with new elements introduced. Pushing the boundaries of a static display, its material and medium, these interventions explore the publicness of the hoarding as more than an urban canvas and experiment with its potential to invite interactivity with its passers-by.

Although industrial technology has vastly changed, L4NDf33lzz underscores the human labour and knowledges embedded in materiality that are cemented in these processes. The patterns continue to be visual testimonies of their makers and suggests a cosmopolitan space where things and non-things collide and where the only constant is the passing of time.

L4NDf33lzz continues from the artist's Creative Residency under National Library Board (NLB), where these images and patterns were first excavated.